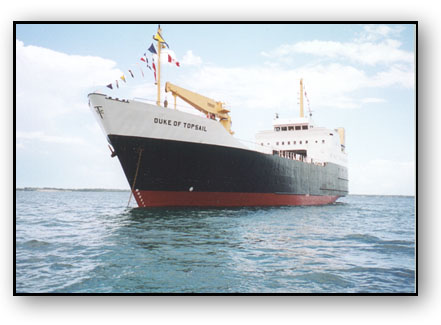 For fast and reliable shipping into Nassau and the Abaco's
from West Palm Beach, Florida, you can depend on the DUKE.
With weekly sailing's and arrivals into Nassau and Marsh Harbour, expect your freight to be delivered on time. Our ship, the 1400 ton M.V. Duke of Topsail, can accommodate all types of shipments. Palletized freight, 20' containers, 40' containers and refrigerated containers. Roll on stern ramps are well suited for shipment of cars, trucks, boats, and heavy equipment. For further information or to receive a quotation on your freight needs please contact our Bahamas office for further details.




US AGENT

BAHAMAS ADDRESS

Gulf Stream Lines/ Heavy Lift Services
801 Avenue E
Riviera Beach, Florida 33404


Phone (561) 840-9393
Fax (561) 863-3451

United Abaco Shipping Co. Ltd.,
P.O. Box AB-20737,
Marsh Harbour,
Abaco, Bahamas.

Phone (242) 367-2091
Fax (242) 367-2235
© 2000 United Abaco Shipping Co.
All Rights Reserved.
Site Design and Hosting By:
Computer Creations